Document Storage Services in St Louis
St. Louis document storage is one of our specialties. The business records of every company are simultaneously of great value and pose a great threat. They can be used to help make informed decisions but if mismanaged, can be used against the business. It doesn't make sense to pay employees to search for documents.
It is not only good business but the law requires your records to be properly kept and records provided in a timely manner when requested. The number of government agencies and laws that apply grows by the day. We can be your partner and help you manage the legal minefield of document storage.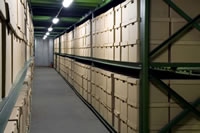 We can help store your records in the cloud in a digital format or in an off-site facility in a physical format. We will save you money on St. Louis document storage space and also maintain them in a secure, climate-controlled facility. We focus on your records so you can focus on your business.
To get free quotes for your project, fill out the form to your left, or give us a call at (314) 735-2919 today.
Considerations to Keep in Mind When Searching for a Record Storage in Saint Louis
Offsite storage gives you the ability to access your files at any time- you can schedule regular pickups or drop-offs, or even request emergency retrieval services if you need a file that's stored immediately. Here are some other things to consider if you're thinking about using a records storage company.
St Louis Simplicity & Cost Savings
Offsite storage helps you organize your files more efficiently and gives you more room to increase productivity. If you're using office space to maintain your records, offsite records storage helps you enhance the productivity of your employees.
Climate-Controlled Records Storage
We provide temperature and humidity-controlled storage for all types of document formats. Climate controlled environments protect all kinds of information- and there's a good chance you don't have the same ability onsite in your office.
Access Control
Security and access control It is crucial to keep your files protected. A data breach is something St. Louis businesses don't realize is a problem until it's too late. Any records that contain personal or confidential information need to be secured and accessed by authorized personnel only.
Legal Compliance in Missouri
Records retention policies, along with document storage programs, can help you decide which files to retain and for how long. Many businesses across St Louis keep large amounts of records, while others discard critical information that should be kept. Either extreme could be a recipe for disaster.
Get Free, No-Hassle Quotes on St. Louis Records Storage
Secure records storage facilities in Saint Louis only allow authorized access to retrieve stored files, making it a viable solution for securing confidential files, personnel records, and important files related to your business. Saint Louis Document Scanning offers secure records storage and record retrieval services throughout Missouri. Offsite storage minimizes the time and money you spend sorting through outdated or expired records onsite.
To get free quotes for your project, fill out the form to your left, or give us a call at (314) 735-2919 today.